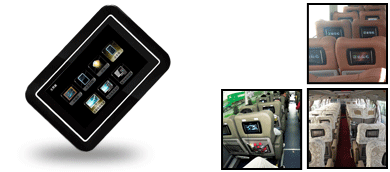 01.Car Audio & Video Entertainment System
Functions:
HD capacitive screen, 7 inches screen resolution 1024*800/10 screen resolution 1280*800;
NTSC/PAL format supported;
MPEG4/AVI/MP4/RM/RMVB and other formats supported;
Multiple audio formats supported;
A variety of image formats supported;
Internet access supported;
FM radio function supported;
GPS signal access;
Video game function;
Personalized setting function;
CAN bus supported.
Characteristics:
Wireless solution, save the signal wire and distributor, also cut down the labor cost;
Simple installation and convenient maintenance;
The host is able to support 60 screens output without interfering at top;
More terminal screens connection with the multi host tree expansion function;
Vehicle standard design with environmental protection materials;
HD capacitive screen makes smoother operation, which also leads to more clear videos;
Multi-language system.
Recommended application:
High speed rail, cruise, sightseeing bus, long and short distance bus.